Our Unique Windows Offer Views of
the Endless Expanse of Kyushu's Alluring Landscapes
We guarantee you exceptional views from this sophisticated, deluxe train,
which operates on a 3,000-km-long railroad that connects Kyushu's seven prefectures.
The island's diverse nature, histories, and cultures that vary according to each region,
as well as the smiling faces of the locals living along the routes,
are only some of the highlights that you can see from the train.
Framed in our panoramic windows, these once-in-a-lifetime sights will always have a special place in your heart.
Enjoy the endless expanse of Kyushu's landscapes to your heart's content.
Routes

Autumn & Winter 2022
(Oct 2022 - Mar 2023)

Spring - Autumn
(Mar - Sep 2023)
Kirishima
Journey
A journey to experience Kyushu's pottery and history,and to reminisce a century of rail travel.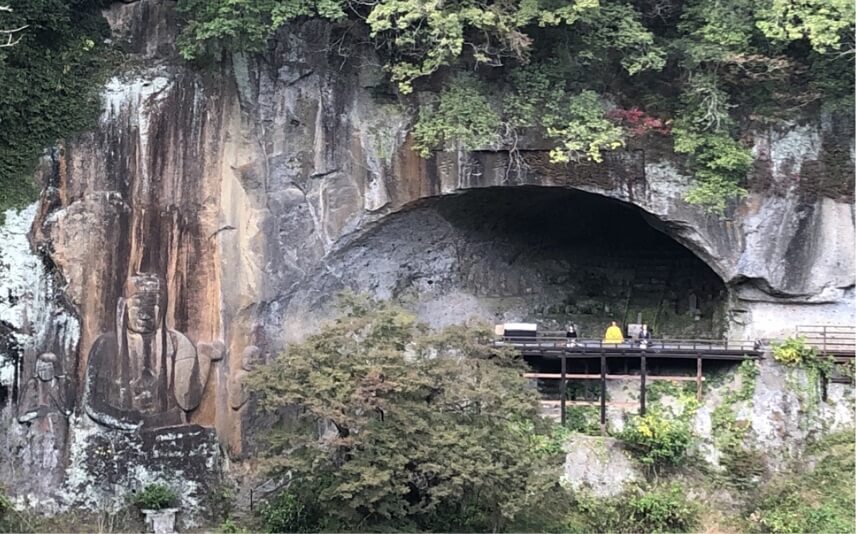 This is a journey to experience pottery, local sake and magnificent nature while traveling around Kyushu by train.
The excursions will take you to where the sound of the kara usu wooden clay-crushing devices echo in the Onta Yaki Pottery Village in Oita Prefecture mountains, to the Chin Jukan kiln where the ware has been fostered for more than 400 years since crossing to Satsuma from Korea, to the areas rich in nature that stretch in the Nishimoro area of Miyazaki Prefecture at the foot of the Kirishima mountain range, and to the UNESCO Eco Park areas of Bungo-Ono and Bungo-Taketa in Oita Prefecture. Please enjoy this nostalgic but new and exciting journey.
*The itinerary may be changed.
Trip schedule / travel route
3-Night 4-Day Journey to
Savor Kyushu's Bountiful Cuisine

Our skilled chefs from all over Kyushu spend time and effort themselves to cook the seasonal ingredients,
which have been grown with love by carefully selected farmers.
Enjoy the luxurious cuisine, which includes Japanese, French, local and Italian cuisine.

Day 1
Imoto

Enjoy simple Kyoto cuisine made with seasonal ingredients from Hakata. The dishes are prepared in a neat and elegant manner, gently harmonizing the owner's sensibility with traditional, yet unorthodox methods. You can enjoy dishes with a balance of seasonal fish and vegetables that you will not get tired eating. (Lunch)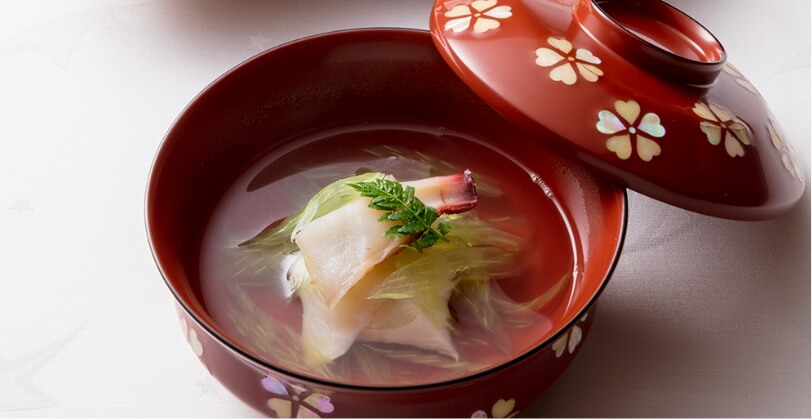 La Verveine

La Verveine is a French restaurant located in Yufuin, Oita Prefecture. It uses local ingredients for dishes that will make your mind and body healthy and enable you to eat with peace of mind. The cuisine is made with the hope that you will eat the delicious food and be revitalized. (Dinner)
Day 2
Seven Stars Head Chef

The head chef on the Seven Stars makes use of ingredients that have been grown in the bountiful nature of Kyushu and locally processed foods that are filled with the wishes of the producers.
Please enjoy the delicious breakfast prepared for travelers by the head chef, who has spent many years with guests on the Seven Stars. (Breakfast)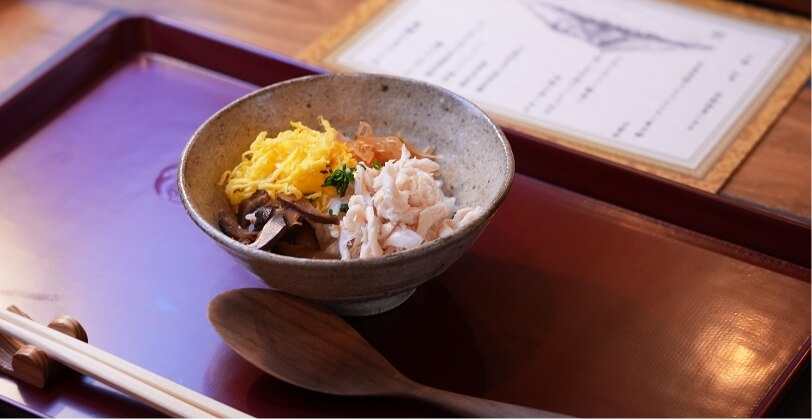 Hitomi Otsuka

A cooking researcher from Fukuoka Prefecture. She uses foods she has chosen by personally visiting the producers and prepares original dishes for the Seven Stars that bring out the goodness of the carefully prepared ingredients. Please enjoy the comforting dishes that can only be eaten here and now and are perfect for the middle part of the trip. (Lunch)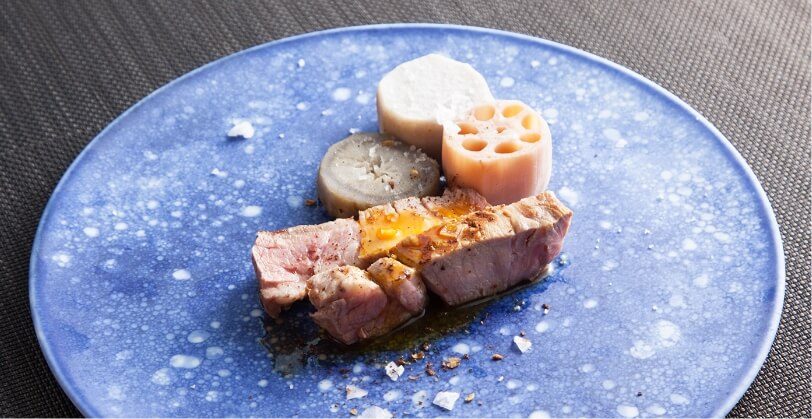 Day 3
Nishimoro Omotenashi Bento

Miyazaki has a history of forestry. At Hinamori Meiboku, "Kirishima cedar" which have been carefully collected at the expert judgment of previous generations are dried naturally for many years before use. Everything is filled with "vital energy". Dishes made from local ingredients are packed in bento boxes made of "wood with vital energy". (Lunch)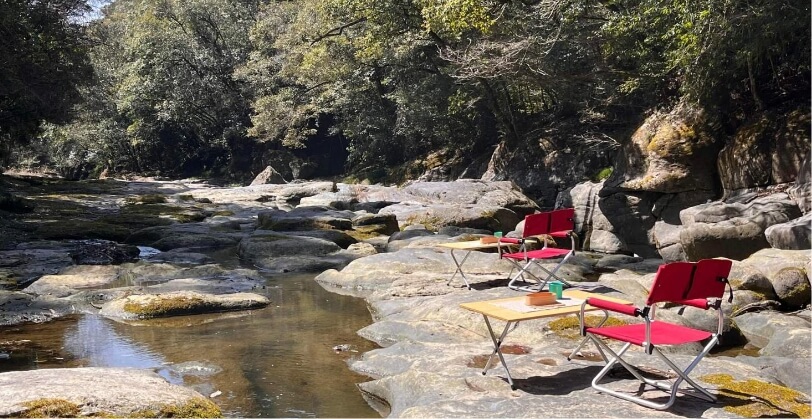 CERCA TROVA

Italian cuisine made using ingredients from the mountains and sea of nature-rich Nobeoka. Please enjoy original dishes that are created with the incorporation of the wishes of the producers who deliver the vegetables harvested that morning and the freshly caught seafood. (Dinner)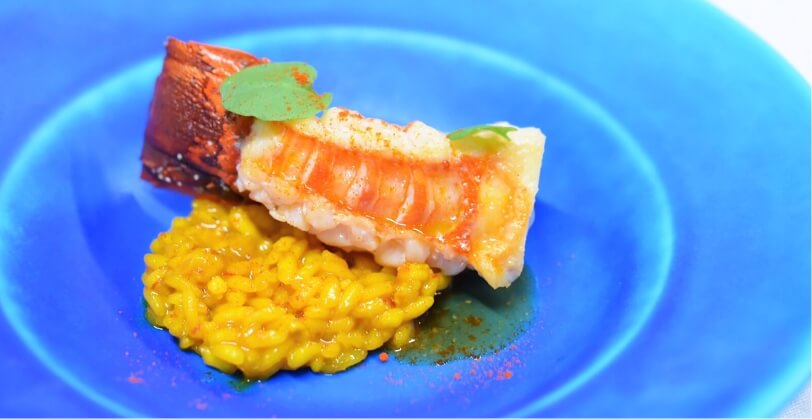 Day 4
Breakfast at Murezuru Shuzo

"Watadamai" (rice for presentation to the Imperial Family) cooked in the oven of the cellar of the Murezuru Shuzo brewery, and "Torijiru" chicken soup. Watadamai rice is a historic rice which is known as "gozenmai", because it was eaten by local feudal lords in the Edo period. It is cooked in the oven of the brewery cellar. The Torijiru chicken soup is a local dish prepared with local chicken, vegetables and seasonings. (Breakfast)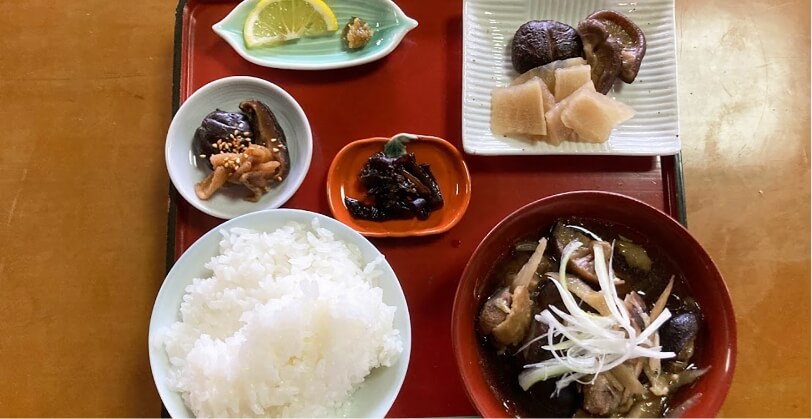 olmo coppia

This is an organic restaurant in a renovated 160 year old storage house near Aso Station. It is well known for its dishes that are warm and good for both body and soul. On the Seven Stars, the restaurant "Kasei" at Aso Station will serve safe and heartwarming homemade dishes using organic ingredients, with a focus on homegrown vegetables and organic vegetables grown in open fields that are delivered from Minami-Aso. (Lunch)