Our Unique Windows Offer Views of
the Endless Expanse of Kyushu's Alluring Landscapes
We guarantee you exceptional views from this sophisticated, deluxe train,
which operates on a 3,000-km-long railroad that connects Kyushu's seven prefectures.
The island's diverse nature, histories, and cultures that vary according to each region,
as well as the smiling faces of the locals living along the routes,
are only some of the highlights that you can see from the train.
Framed in our panoramic windows, these once-in-a-lifetime sights will always have a special place in your heart.
Enjoy the endless expanse of Kyushu's landscapes to your heart's content.
Routes

Autumn & Winter 2022
(Oct 2022 - Mar 2023)

Spring - Autumn
(Mar - Sep 2023)
Kyushu tour
Journey
A journey to enjoy the elegant Seven Stars while viewing the changing nature of Kyushu from the train windows
This is a one-night/two-day journey where you can experience the richness of spending time on the Seven Stars train. A journey where you can feel the flow of time in the changing scenery through the train windows.
Passengers can enjoy activities on the train and spend time talking with fellow passengers in the salon. The dinner eaten while watching the sun set into the East China Sea from the Hisatsu Orange Railway will be a memorable scene. Communicating with local people in small coastal towns in the west and east of Kyushu will surely warm your heart.
*The itinerary may be changed.
This is the first time for the one-night/two-day journey to visit the southern Kyushu area. In the train journey from Hakata to Kagoshima, a relaxing time will be spent viewing the scenery of the glittering azure-colored sea from the train windows and there are other things to enjoy prepared on the train.
Please experience a day filled with the history of Kyushu and the Seven Stars through the stories of Okawa Kumiko craftsmen, who decorated the interior of the Seven Stars.
Trip schedule / travel route
Delight in the Seasonal Treasures Cultivated on the Island of Kyushu
that Fill Your Meals Over 2 days and 1 night

Accomplished chefs who represent Kyushu skillfully prepare each treasure
that has been nurtured in Kyushu's seas, mountains, and rivers.
You will be swept into a journey of encounters with new dishes in this special atmosphere.
Day 1
Yamanaka

Since its establishment in 1972, "Yamanaka" has been frequented by food connoisseurs from all over Japan as a famous "Hakatamae" sushi restaurant. On the Seven Stars train, a luxurious time and space is offered with seafood from the Genkai Sea and other nearby waters and sushi that is freshly made by polished chefs. (Lunch)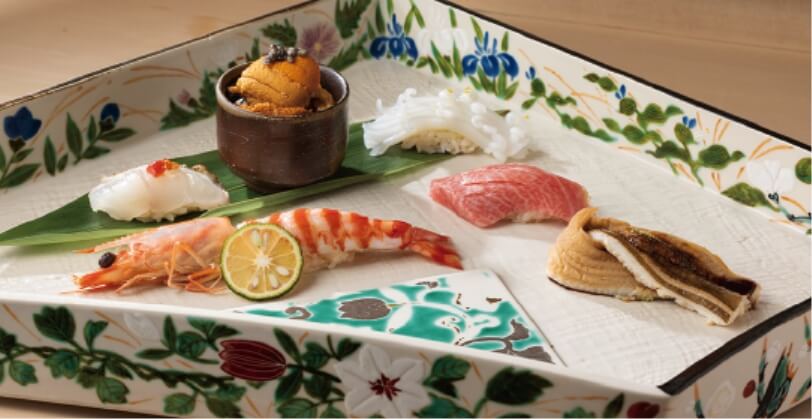 Table de Chic

This is a blissful French cuisine prepared by two chefs who are a married couple from Kagoshima. Based on the solid skills they have gained through experience at restaurants both in Japan and overseas, they express the appeal of ingredients from Kagoshima and Kyushu in their dishes. (Dinner)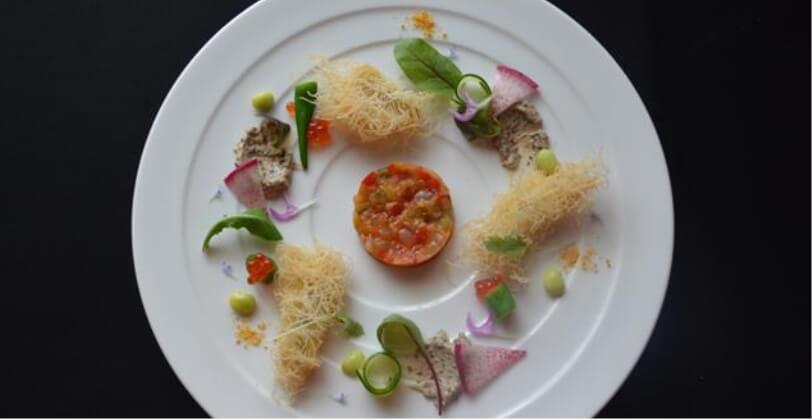 Day 2
Seven Stars Head Chef

The head chef on the Seven Stars makes use of ingredients that have been grown in the bountiful nature of Kyushu and locally processed foods that are filled with the wishes of the producers.
Please enjoy the delicious breakfast prepared for travelers by the head chef, who has spent many years with guests on the Seven Stars. (Breakfast)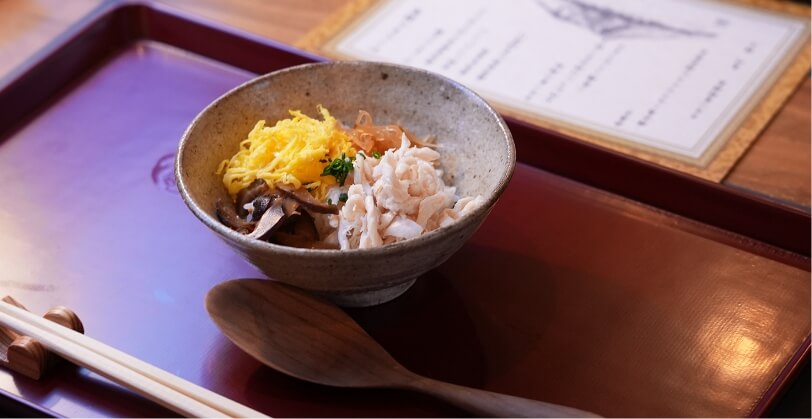 Hosun

This is a hideaway for creative Japanese cuisine that is quietly located in the city area of Oita City. Time and effort is spent to depict the changes of the four seasons and the scenery of the land, and to be particular about the containers and food presentation, to prepare cuisine that is "delicious to the spirit" and filled with the seasons of Oita. Please enjoy a beautifully delicate lunch prepared by the only female chef among the food on the Seven Stars. (Lunch)